Bruce's Filet Mignon & Lobster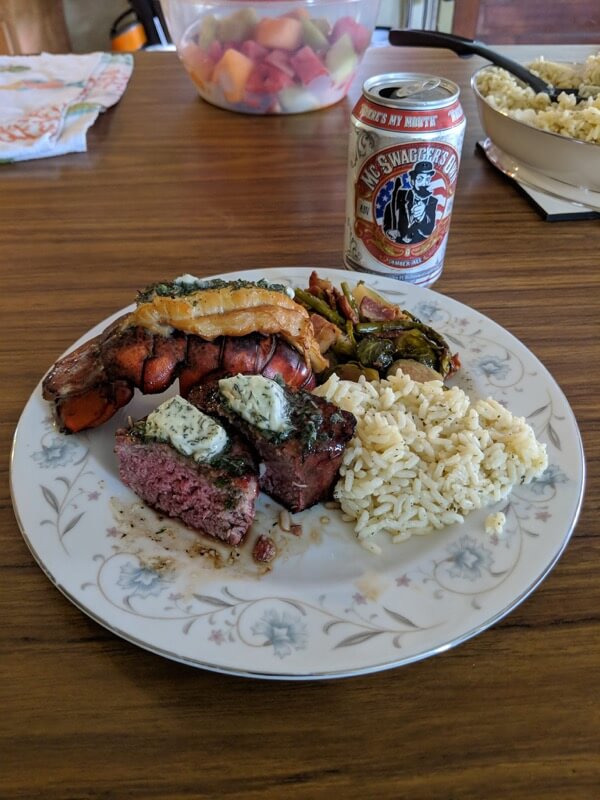 Ingredients:
Grilled Filets & Lobster Tails with compound butter, Cilantro, Lime Rice w/onion, Brussels Sprouts & Asparagus sauteed w/bacon, onion & garlic w/a balsamic & honey glaze.
Directions:
Filets are simply seasoned w/salt & pepper and grilled (with the lobster) over apple wood. The compound butter has fresh sage, thyme, rosemary & tarragon. (it does turn the lobster a bit dark, but very tasty). The rice is brown rice (abt 2 Cups cooked) with cilantro leaves (1 Bunch chopped), half a medium onion chopped. Cooked in a 2 to 1 ratio of chicken stock. Veggies are halved (or quartered) Brussels Sprouts depending on size about half a pound, 1 bunch of asparagus woody ends trimmed, then cut in half or thirds, again depending on size. 8 slices of thick bacon cuts into lardons, half a medium onion chopped, 2 – 3 cloves of garlic, smashed and finely chopped, balsamic & honey to taste.