Cauliflower Rice Sushi Casserole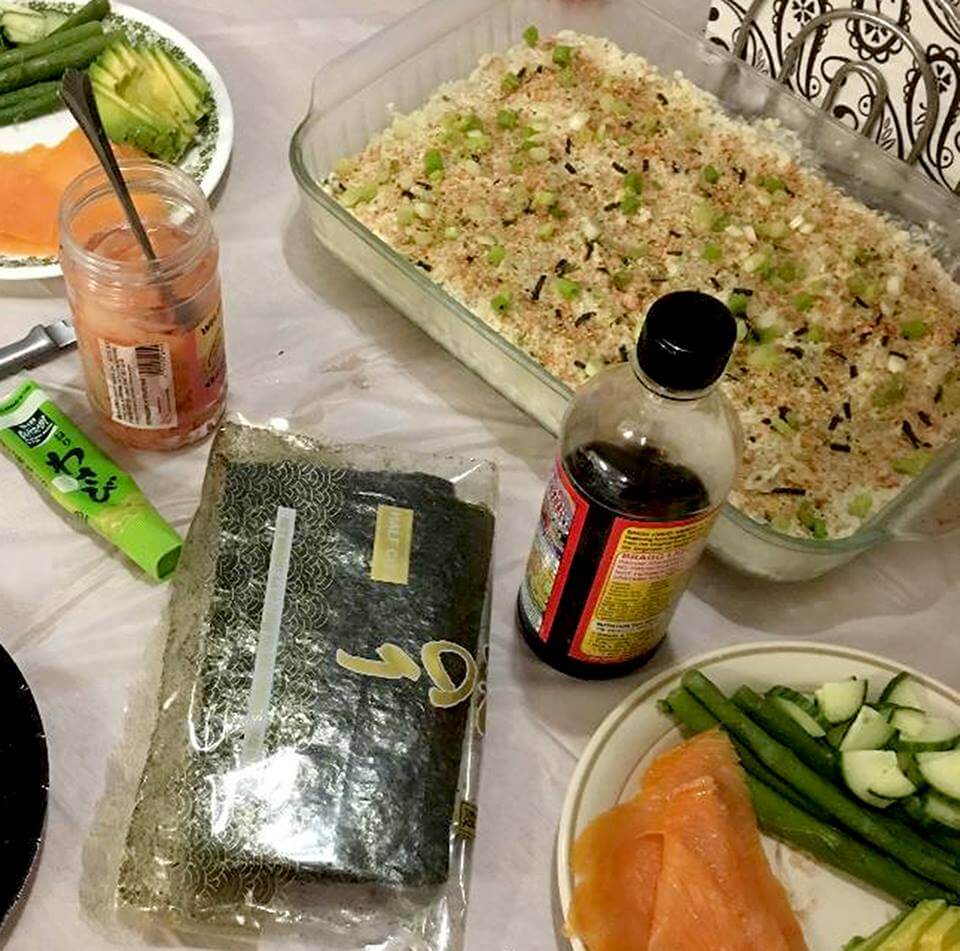 Ingredients:
1 large head of cauliflower (riced)
6-8 oz. softened cream cheese
2 Tbsp Rice Vinegar
2 Tbsp soy sauce
1 container Rice Seasoning Furikake (optional) (found in Asian stores or Amazon)
4 minced green onion
1lb. cooked minced shrimp or imitation crab (optional)
Nori sheets for wrapping sushi (half sheets)
1 English cucumber, sliced into small strips (optional)
1 Avocado, sliced into small strips (optional)
Directions:
In a very hot pan, add riced cauliflower and toss. Season with soy sauce. Cook until just tender. Once the cauliflower is finished and dried out some set aside to cool. 

While cauliflower is cooling, in a bowl mix cream cheese, rice vinegar, 1/2 of the minced green onion and either shrimp or crab if using. Also add 2 Tbsp of the rice seasoning if using. After cauliflower is cooled add it to the cream cheese mixture and combine well. 

In a casserole dish spread out cauliflower mixture. Then top with the rest of the green onion and sprinkle more of the rice seasoning. Cover and refrigerate for a couple hours to let flavors meld. 

When ready to eat you place your nori sheet down & scoop the casserole down the middle with any other topping you choose (cucumber, avocado, asparagus, pickled ginger, smoked salmon..etc.) roll it up and enjoy!